Attic Water Tank Replacement – Things to spot and why you need to act…
Attic Water Tank Replacement – there are usually a number of conditions in play when a customer rings the team regarding an attic water tank replacement.  Here are a few pictures of old Attic Water Tanks:
One: Your home is most likely on the old side, in fact some older attic water tanks have taps running from them.  This is very dangerous from a water consumption perspective.  So, the house where the attic water tank needs replacement is usually around 30 years or more.
Two: Think about it, these older generation water tanks are made of a form of metal, galvanised iron in fact.  And over time immersed in water it will disintegrate and the chemicals and materials will seep into your water.  Water that should not be consumed.
Three: With uncovered and damaged attic tanks, all sorts of things might find their way into it, such as rodents and even their faeces, inserts, dust, etc.
Now, if your attic water tank starts to leak, you need a replacement urgently.  Water damages can really effect your house and your electrics.  You need to replace it urgently.  You may see stains on your ceiling or water dripping from it, these are tell tail sign.  Act fast.  Something like the example stained ceiling below: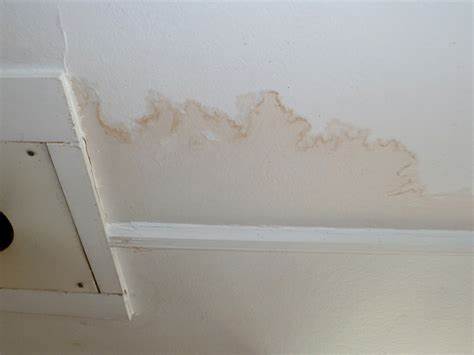 Attic Water Tank Replacement – your home insurance???
Another potential issue regarding your home which has a Galvanised Tank is if you try and make an insurance claim, the assessor will most likely blame YOU for the leak (some but not all).  Yes, the insurance you have been paying every year hasn't even covered you for water damage….why?
Well, they will claim that you were negligent, and you should have replaced the water tank in advance of it actually decomposing!  Yes, they will use any trick in the book!  Again, some but not all insurance companies.  Apart from the obvious what are the advantages of replacing your galvanised attic tank?
What about today's attic water replacement solutions??
All houses built today, must confirm to standards and any builder who suggests an iron galvanised water tank solution is perhaps behind the times!!  Here are a number of water tanks images:
To summarise let's list the advantages of a Replacement Attic Water Tank
For one, you will have a larger tank
Your home insurance will not be potentially compromised
There will be no such thing as your tank ever corroding, you will get at least 20 years from your replacement attic tank – and ultimately a reduced risk of flooding
And it will increase the value of your home.
Do you need to replace your Attic Water Tank?? – Contact AG Heating & Plumbing Today
Contact our team today, complete our 'Get a Quotation Form', call the team on 01-908 1194 / 085-281 9755 or email: info@heatingandplumbing.ie and we will provide an instant quotation and be on site at your home or office within the hour.