Oil Boiler Servicing from AG Heating & Plumbing the Benefits and what a Oil Boiler service consists of
There's nothing like an unexpected cold shower in the morning to ruin your day. Like any other appliance in the house, oil boilers require regular servicing and maintenance if you'd like to avoid damage and costly repairs in the future. Unfortunately, oil can get easily contaminated and, the efficiency and reliability of the system can stop functioning correctly.
AG Heating and Plumbing are here to help you with your oil boiler servicing but having a look at some of these causes to boiler damage may save you time and money in the future.
Common causes of Oil Boiler Damage
Water ingress
Water ingress to the tank can make the oil to congeal and in turn, clog the nozzles.
Blocked Oil Line
Frozen water and air can block the oil line and lock out the boiler.
Oil Boiler Lockout
Oil boiler lockout can happen for several reasons. A leak in the system can cause low boiler pressure.
Dirty condense trap
Dirt and debris can collect in the trap and stop the boiler from working.
All these issues can be prevented with an annual oil boiler service. If you forget to schedule your yearly servicing, you could end up having to replace your oil boiler with a new one, which can be quite costly.
Reasons to schedule your yearly oil servicing checkup:
Safety
Did you know that an oil boiler, when not combusting properly, can leak deadly carbon monoxide fumes? Carbon monoxide poisoning can be lethal, and the first symptoms are headaches, an upset stomach, chest main, vomiting, and confusion.
Purchase a carbon monoxide alarm, as this gas has no smell or taste, and the first signs of leakage resemble the common cold in many ways. If you schedule a yearly servicing checkup, you will ensure that you and your family members are safe.
 Save Money
While many see annual oil boiler servicing as a waste of money, the truth is it will end up saving you quite a bit in the long run by reducing your bills. An annual boiler service will make sure your device is functioning efficiently by detecting defects or faults, helping you avoid bigger repairs.
Prevent nasty surprises
A reliable and functional boiler is key to preventing your family from getting cold in the winter. Who doesn't like to indulge in a warm bath? Well, if your boiler goes bad, you won't be able to enjoy the relaxation. Our experts who specialize in heating and plumbing will make sure things are running smoothly, and your boiler provides plenty of heat in the home.
The AG Heating & Plumbing team will:
Visually inspect pipes, the oil tank and supply pipe to ensure that they match the current safety regulations.
Clean out the flue.
Replace the boiler nozzle.
Inspect if there's water in your oil tank.
Check combustion using a flue gas analyzer.
Check the supply pipe to ensure there are no signs of leakage.
Remove the boiler casing and give the internal components an excellent clean
We will also, test all safety systems to make sure that they are functioning properly. Answer any of your concerns regarding the functionality of the boiler.Turn the boiler on to check that it is working correctly.
These are some of the Oil Boiler Manufacturers we have worked with: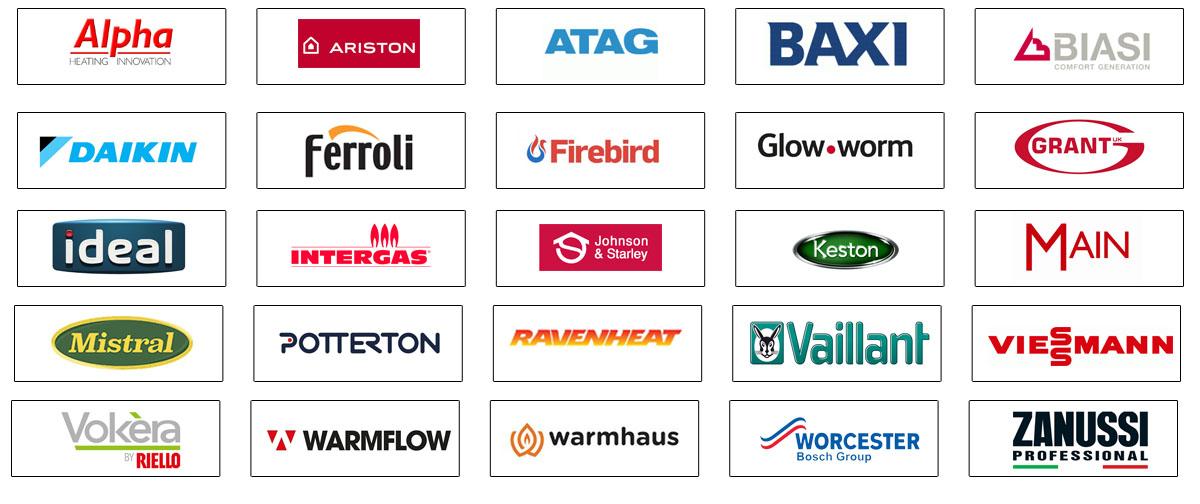 Looking for an Oil Boiler Service Near You in Dublin
Call us for more information – our friendly team is always glad to help! Contact our team today, complete our 'Get a Quotation Form', call the team on 01-908 1194 / 085-281 9755 or email: info@heatingandplumbing.ie and let us know why you need Oil Boiler Engineer throughout Dublin and we will provide an instant quotation and be on site at your home or office within the hour.