Your annual Oil Boiler Service in Dublin – When, Cost and What is involved
Firstly, and most important, your annual oil boiler service should be undertaken by a qualified OFTEC qualified and registered engineer.  And it's probably best to schedule your oil boiler service come the end of the Summer.  You might not use your boiler throughout the Summer months, so it's best to service your boiler a month before you plan on using it heavy.  What are the costs associated with an oil boiler service…
But first, a stark reminder about why an annual boiler is required, a 1 mm build up within your boiler can reduce its efficiency and heat transfer by up to 10% and 3 mm even up to 50%.  So, best to get it services, the cost of a service far outweighs the savings you will make in fuel.
The Cost of an Oil Boiler Service
A service at AG Heating & Plumbing throughout Dublin is from 99 euro and the job usually takes an hour to an hour and a half.
What is involved in an Oil Boiler Service from AG Heating & Plumbing
The service briefly speaking will consist of:
Inspect & clean fuel filter
Inspect & test operation of fuel shut off valve
Inspect & test operation of remote acting fire valve where fitted
Inspect air inlets to boiler room for blockages and correct sizing
Inspect draught stabilizer where applicable
Inspect & clean flame chamber
Inspect burner refractory
Inspect & clean baffles
Inspect & clean burner diffuser & burner blast tube
Inspect ignition transformer, HT cable & porcelain for deterioration
Inspect & clean photocell
Inspect, clean & adjust burner electrodes
Calculate correct output of boiler & fit new burner nozzle to suit installation
Adjust burner pump pressure & air ratio
Inspect & test operation of boiler thermostat & boiler high limit thermostat
Inspect & test operation of flame failure device
Full Explanation of Results
And also we will examine your tank for particulars such as:
The oil tank would also be checked on every Oil Boiler Service. To check for leaks and marks on it for a week spot (a white line).  It would also include:
Check oil pipework and filter for leaks
Check oil line fuel filter as well oil pump fuel filter, some oil line filters have paper elements which cannot be cleaned and have to be replaced
Check oil tank for correct installation and location
Check boiler for correct installation particularly flue termination
Check wiring and electrical connections are correct and safe, including proper means of isolation
Check condition of flue and flue connections
Check condensate is piped to a suitable drain or soak away
Check boiler pipework and fittings for water leaks.
The Types of Oil Boilers we have serviced throughout the years at AG Heating & Plumbing…
We have services almost all Oil Boiler Brands from Alpha to Worcester, see our Gallery of Manufacturers below: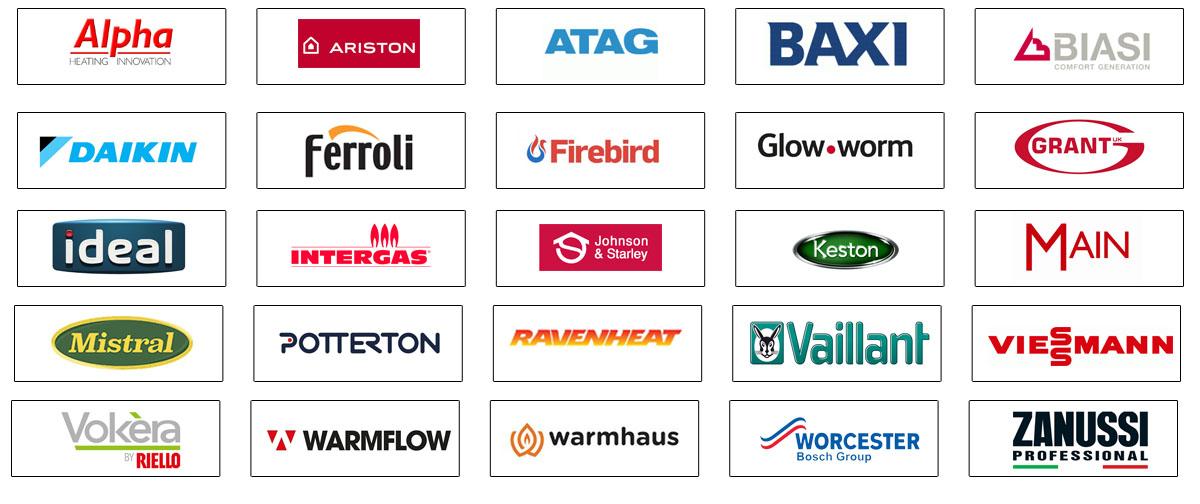 Need an oil Boiler Service throughout Dublin, South Dublin, Tallaght, Lucan, etc. – Contact AG Heating & Plumbing Today 
Contact our team today, complete our 'Get a Quotation Form', call the team on 01-908 1194 / 085-281 9755 or email: info@heatingandplumbing.ie and let us know why you need Plumber in Tallaght and we will provide an instant quotation and be on site at your home or office within the hour.