Have an Emergency Boiler Repair anywhere in Dublin – Why its has to be AG Heating & Plumbing
Emergency boiler repair Dublin is not something you want to be searching for, but these things happen. When your boiler has a fault, you need experts on your side who can resolve your problems quickly, affordably, and correctly. Issues arise with boilers all the time, they are complex machines, especially older models.
Luckily, AG Heating and Plumbing can help you with any issues. Our number one recommendation to avoid boiler emergencies is to ensure you have an annual boiler inspection, something that we also do here at AG Heating and Plumbing.
We specialise in emergency boiler repairs, boiler servicing, installation, and routine inspection along with plumbing and bathroom installation. Should you find yourself in a need of an emergency boiler repair in Dublin then look no further. Our professional team have been in business for many years and we take great pride in solving any issue put in front of us.
A fault with your boiler system can come at any time. Heating and plumbing are tricky areas and that is why we have built of years of experience becoming experts in our craft so we can provide the best service possible to our clients in Dublin and surrounding areas.
What we do at AG Heating & Plumbing
We offer 24/7/365 emergency services. We can work on your issues as fast as possible leaving you and your bank account satisfied with a job well done.
Our boiler room teams work in areas such as:
Boiler Upgrades
Installation of Biomass Eco Boiler
Oil Boiler Repairs and Installation
Repairs and Maintenance
Fitting Combination Boilers
Landlord Safety Checks Certification
Boiler Servicing
This gives us a complete understating of boiler and heating need and trends. Our team stays ahead of new trends and we have worked on every type of boiler and the issues that they may have.  Oil Boilers from manufacturers as as: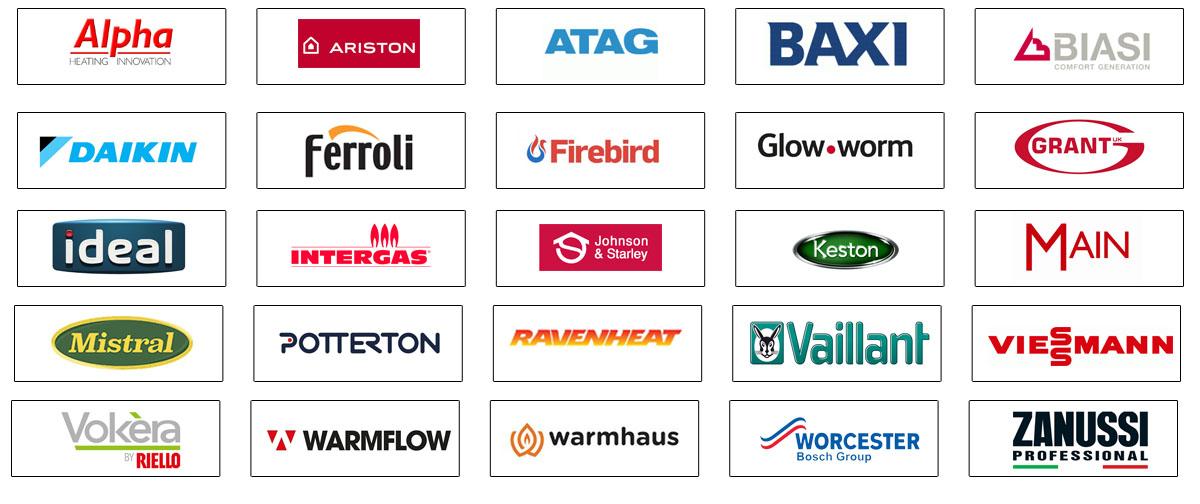 Your two primary options for a faulty boiler:
If it is a minor issue and parts and replacement cost is low, we always recommend getting your boiler fixed. A lot of people underestimate the life span of a quality boiler system.
If there are major issues such as a design fault, hazardous emissions, or unavailable parts, then, unfortunately, a replacement is your only option. Though this can be costly there is always a solution. AG Heating and Plumbing will recommend to you the best route to take.
Why AG Heating & Plumbing
Our experience – Once we have discovered the fault in your system, we can explain the issues to your and the fixes that are available be they short or long term. We will not work until you are happy with our assessment and we can give you the fairest fix possible at an affordable price. Oil boilers come with their own unique set of issues all of which we aim to resolve as quickly and as safe as possible.
Qualifications – Our team of professional are insured, qualified, and experienced with all manner of heating and plumbing needs. We take pride in our work and will do our best to resolve your boiler room emergency as soon as possible. Do not fret about calling in the middle of the night as we know these things are out of your control and need quick fixing.
Finding the Problem – AG heating and plumbing will make a thorough investigation into the cause of your boiler issues and we can also conduct routine maintenance throughout the year to avoid these issues in the future.
Our suppliers – We are supplied by some of the best companies in the industry including Worcester. So, you can rest assured you will receive quality service with quality tools and equipment.
We are local – We are Dublin based but happy to travel in case of emergencies. Our local knowledge means we have worked in almost every environment Dublin has to offer and in all manner of heating and plumbing situations. You won't have to worry about lost drivers, explain directions or the type of boiler unit you may have in your home as we have seen it all before.
Customer service – We like the create a lasting relationship with our customers. We do this by providing a professional service that meets our customer's needs. See some of our testimonials from past customers.
How to avoid an emergency boiler call out-Boiler safety:
Gas boilers can be quite hazardous if not looked after properly. Leaks and cracks can lead to fumes entering the home which may cause health issues, routine service will aid in avoiding such scenarios.
A regular service will save you money in the long run. Replacements and repairs can be costly. These can be avoided with regular servicing.
Better maintenance will ensure the longevity of your boiler.
Have you an oil boiler emergency on your hands throughout Dublin and Leinster? Contact AG Heating & Plumbing Today 
Contact our team today, complete our 'Get a Quotation Form', call the team on 01-908 1194 / 085-281 9755 or email: info@heatingandplumbing.ie