All you need to know about OFTEC Registered Oil Boiler Engineers
Why you should use a registered OFTEC engineer such as AG Heating & Plumbing
If you are currently looking for registered and qualified OFTEC Oil Boiler engineers and plumbers who are reliable, efficient and certified then AG Heating & Plumbing are the company for you!
We deal with boilers, heating systems, plumbing or bathroom plumbing issues. All of these essential services can be very stressful on homeowners when something goes wrong and that is why we guarantee to provide all our clients with a quick, easy and stress free service at a competitive and fair price.    Check out our reviews on Google or Facebook and see our testimonial page, here.  And don't forget we also offer emergency service work out of office hours and any OFTEC Oil boilers.  But first, why is it so important to ensure you engage with a registered OFTEC Boiler Engineer?
Importance of OFTEC Training and Registration
It is very important that heating engineers are trained, skilled and confident in their work. Fundamentally, the OFTEC training course will provide a heating engineer with a body of assured knowledge and that knowledge breeds confidence and gives customers that peace of mind.
Another huge positive of being OFTEC trained is for safety, environmental and economic reasons. Here in AG Heating & Plumbing we take continuous education and training very seriously and we want to ensure that all our engineers are being safe and smart when working for you.
We always make sure our engineers provide evidence of their successful training and also complete OFTECS own inspection and scheme conditions. This is very important for our heating engineer when they first start working for the business as  it is important for them to know that it will be an ongoing requirement so our engineers can keep up to date with the latest industry developments.
And this is what an OFTEC Certificate looks like, so, feel free to ask our Engineers for proof of OFTEC Certification: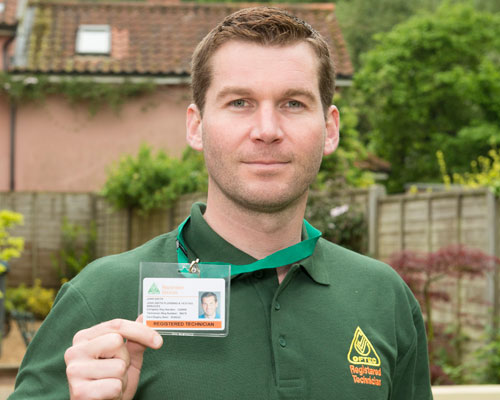 Advantages of hiring AG Heating & Plumbing engineers.
There are many advantages of hiring a OFTEC engineer just like us the team at AG Heating & Plumbing. Firstly, it offers a peace of mind of knowing that any installation or maintenance work will be done by an engineer who has been trained and inspected.
You can see some of our work here, with these before and after photos:
Many of the Oil Boiler above come with a 7 year warranty when installed by a registered OFTEC Engineer…you are in very secure hands with AG Heating & Plumbing
Friendly and informed Staff at AG Heating & Plumbing
When you call or email the team regarding any of our services you should always expect a  friendly service and professional workmanship from us. All employers are trustworthy and highly experienced engineers.
Knowledgeable Staff
It is very important to our company that our engineers are aware of the new and up to date trends and best practice and are trained in new manufacturers and technology. We are skilled in a variety of heating systems, boilers and plumbing services. We promise to give you full satisfaction as we perform your repairs and installations.
And remember:
You are entitled to a 5 year warranty when your new oil boiler is installed by a registered OFTEC Engineer…you are in very secure hands…
Why call AG Heating & Plumbing Today – One of a few Registered OFTEC Engineers in Dublin
You can use the official OFTEC website to verify that an engineer is in fact registered, see this link.  And you can see AG Heating & Plumbings profile, see: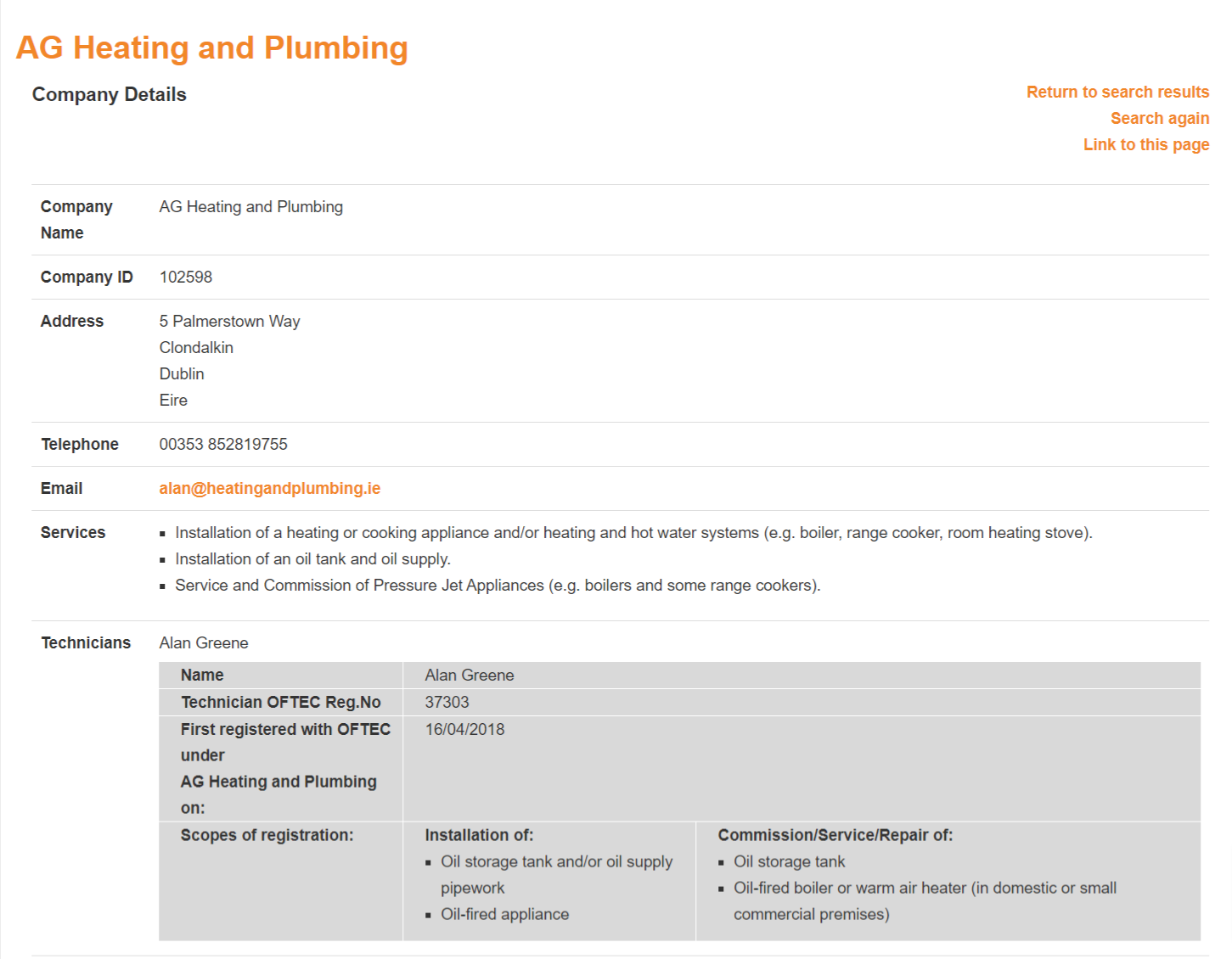 We Charge by the Project and Not the Hour
Our company also do not bill by the hour only on the type of job that is required. Another fact about our company is that we are one of a relatively small number of registered OFTEC registered engineers in Dublin so you are guaranteed to have the best workers when you choose our company.
Get a complimentary quotation for any Oil Boiler Repairs, Servicing and Replacements…
Call us at 01-908 1194 to request a quick and easy quotation across Dublin and surrounding counties. For a complimentary consultation across Dublin and surrounding counties, you can email the team direct at: info@heatingandplumbing.ie